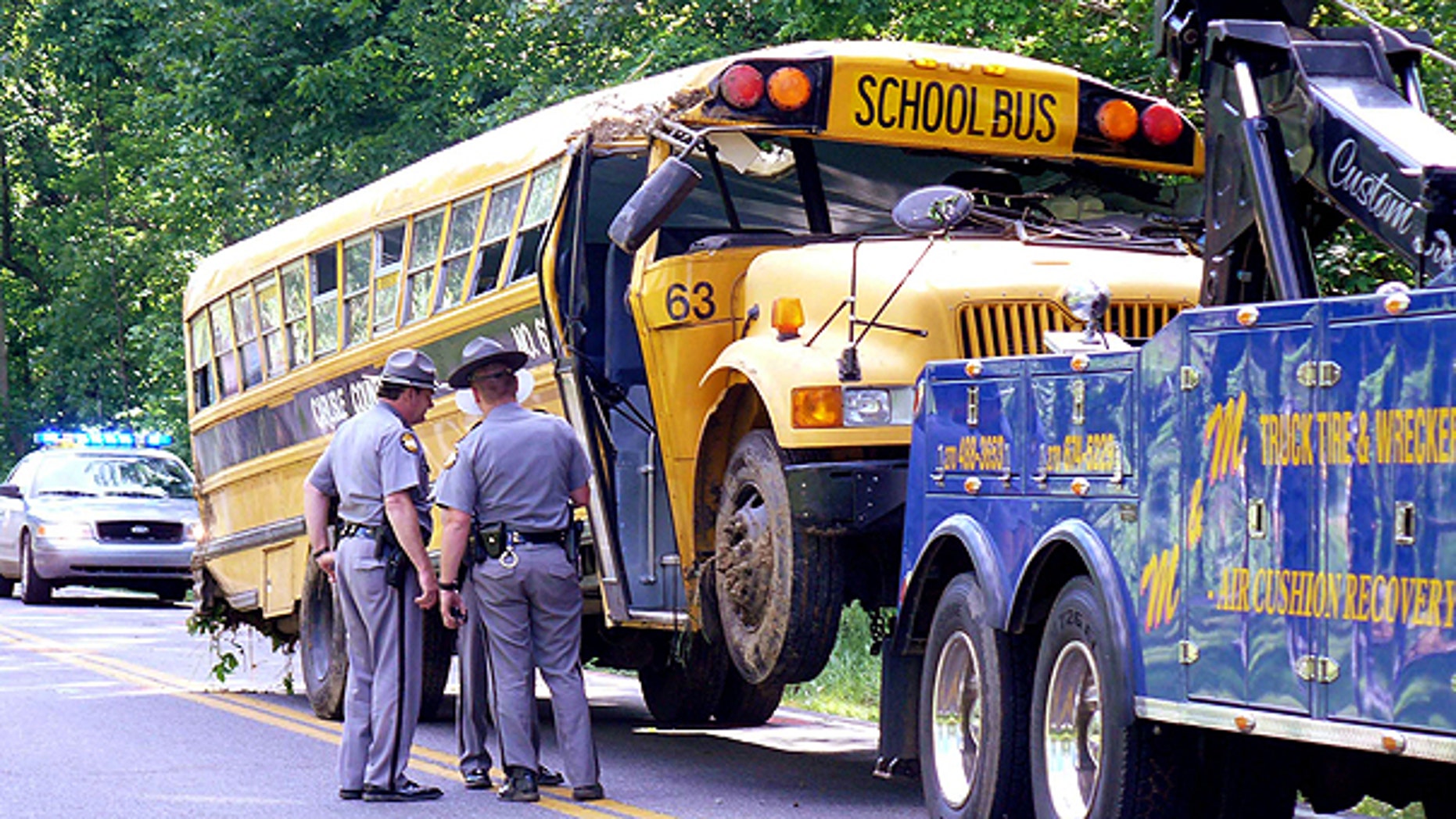 BARDWELL, Ky. – A school bus shuttling elementary children being rewarded with a day of swimming and games for reaching their reading goals swerved off a two-lane highway and rolled over several times, killing a 6-year-old boy and injuring several others, authorities said on Monday.
Pupils from Carlisle County Elementary School were returning from a recreation center 20 miles away in the city of Paducah, said Kentucky State Police Trooper Dean Patterson. The boy whose name was withheld until family had been notified was pronounced dead at the crash scene, said Carlisle County Coroner Steve Freeman.
"I wish I hadn't seen it," Freeman said.
Patterson said some children were trapped briefly before rescue workers freed them.
Frantic parents rushed to the crash scene near Bardwell.
"Those kids were scared to death," said Laura Pender, whose 7-year-old daughter, Cheyenne, was on the bus that crashed. "And so were the parents."
The bus dropped off the right side of the highway, veered back across the road and overturned, rolling several times into a ravine and came to rest about 50 to 60 feet off the road, authorities said. The cause was being investigated.
About 30 people were aboard the bus, at least 27 of them children, Patterson said. Sixteen children and an adult were transported to three area hospitals for different injuries, Patterson said. An adult chaperone was airlifted to a Memphis, Tenn., hospital. The driver, who was not identified, was airlifted to a hospital in Cape Girardeau, Mo.
Five children were admitted to Lourdes Hospital in Paducah, emergency room director Donna Croft said. All were in stable condition, and she said she expected some to be released in the evening.
The bus that crashed was among three heading to the county's one public elementary school after the children had spent a day swimming, playing basketball and jumping rope at the recreation center, a parent said.
The group ate at a local Mexican restaurant before heading back to Carlisle County, which has a population of about 5,000, in far western Kentucky near the Missouri border.
Pender said her daughter was treated at a hospital for bumps, bruises, cuts and scrapes before being released.
"She said, 'I will not get on another bus again,'" Pender said. "A lot of the kids were saying that."
School officials declined immediate comment about the crash. Pender said school officials had told parents that counseling would be available on Wednesday, when classes resume. Schools in Kentucky are closed Tuesday for the statewide primary election.
Patterson said there were tire marks in the road at the crash scene, but authorities had not determined whether the bus was speeding.
___
Schreiner and Campbell reported from Louisville. Associated Press writers Pinky Mehta and Janet Cappiello also contributed from Louisville.